Welcome to our MTG Artists Interview series, There's no Magic without art.
Today we have the pleasure of sharing with you our interview with Ron Spears, here's what he told us.
Hi Ron. Your first card debuted in 98, tell us a little about how you got started.
I came to Wizards of the Coast from a Video Game company where I was an illustrator and art director. Magic was expanding and they felt I could help with some of the organization and art needs.
It was an amazing time, working with all of the people who were so passionate about the game and the players. In addition to commissioning the cards, I would illustrate them when needed, if an artist couldn't do one or if one was added at the last minute.
This usually meant tighter deadlines and many of my early cards were done more quickly than I would have liked. When I left Wizards, I continued to illustrate cards, spots, etc.
You've said in the past that you resist doing sketches, and prefer to see where the painting leads to. Can you give us a brief description of your painting process?
First, let me say that working without a drawing is not a good way to work with art directors. They have a tough job and need to know what they're getting in advance.
I generally do quick thumbnail sketches to get the main idea and composition – I'll do lots of these until I get the feeling I'm looking for. At this point, there's no detail or even marks that represent anything other than the composition and mood.
These are only readable by myself and not intended to be seen by anyone else. From there I'll pick a direction and do a tighter sketch. My sketches at this point are still a leap of faith on the part of the art director. If they approve the direction, I'll shoot and gather references.
I'll do a drawing, based on the sketches and the reference and transfer it to the board, or sometimes just go directly to blocking in shapes using the paint without a supporting drawing.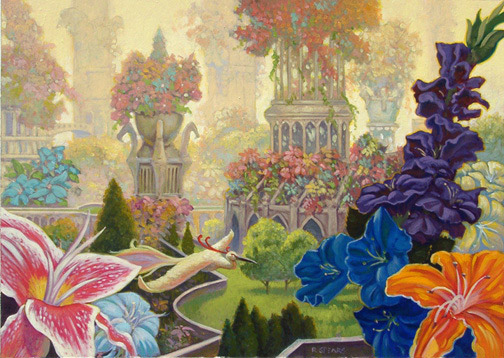 Either way, it's still drawing. With the paint, I'm very much in the moment, reacting to the abstract shapes and slowly bringing up the focus. It really depends on how critical the details or the continuity to the I.P. is. If it's critical that it has to look a certain way, then I solve everything in the drawing stage.
I just like the continuous creativity and energy from reacting to abstract shapes, rather than rendering them within the lines of an already solved drawing.
Your art is very colorful, playful, and vibrant with action. Where do you draw inspiration from?
I'm inspired by almost everything and constantly experiment. Like most artists that work with adventure-themed products, I have all the usual influences – Frazetta, Pyle, Wyeth, etc. Also, since I was on staff at Wizards, I was sitting next to the best in the biz – Lockwood, Brom, Post, Tedin, Waters, Fields, and every artist I commissioned.
Earlier in Magic, variety in artistic interpretation and styles, coming in from all the different artists was embraced, so it was a great opportunity to try different ways of working. Today, there is an emphasis on continuity and consistency through an I.P., so it's better to have a more stable way of working. It's just easier on everyone.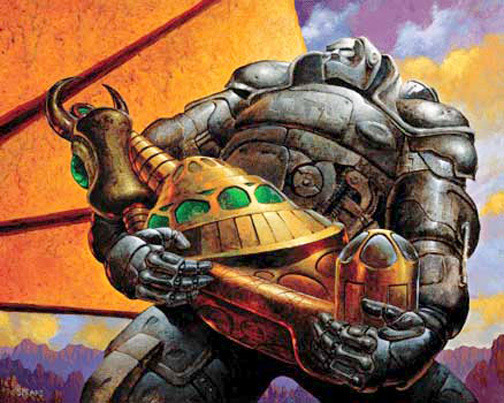 In a 2006 interview with WotC you mentioned that "The transition to digital is necessary for today's market." What has changed since?
This is even more true today, with all of the emerging technologies beyond print and web; VR, AR, etc. Everything is digital – even the traditional media paintings are scanned, digitized, processed, and converted to work across multiple platforms – print, video, apps, websites, VR, AR, etc. Art Directors rarely want to, or need to, handle an original piece of art.
Where once, there was a clear division of process – the artist was responsible for the original art – then it was someone else's responsibility to process, color separate, etc. Today, many of the production responsibilities, as well as the creation of the art, lie with the artist. Even if the artist works traditionally, they are still going to need to speak and work in the digital environment.
Digital paint tools have advanced so far in such a short amount of time. While I continue to paint traditionally, almost all of my commercial work is using digital tools. People have adjusted to the speed of the digital age, so deadlines are faster, fees are less and changes are unlimited.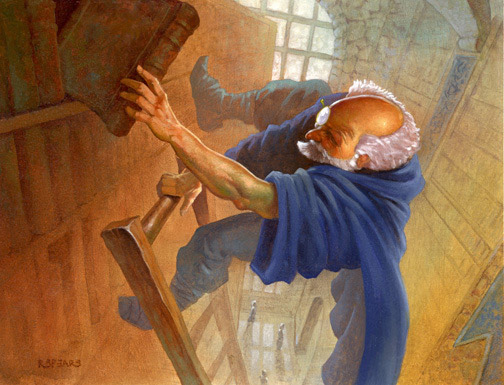 That's, in part, an economic change that illustrators need to be aware of. Companies need to compete. They need to get their best product out into the market, quickly and in the most cost-efficient manner possible. This impacts the content providers, like illustrators. So we need to address this in our business plan as well and be able to deliver the highest quality work in the most efficient way.
I realize this doesn't appeal to the creative artist in all of us, but if we want to make a sustainable career, we need to recognize the opportunities as well as the challenges. In its final form as a printed or reproduced image, it doesn't matter what tool you used – digital or traditional – all that matters is the quality of the work, from concept to completion. In addition, Digital services have created almost unlimited resources for the entrepreneur-minded artist.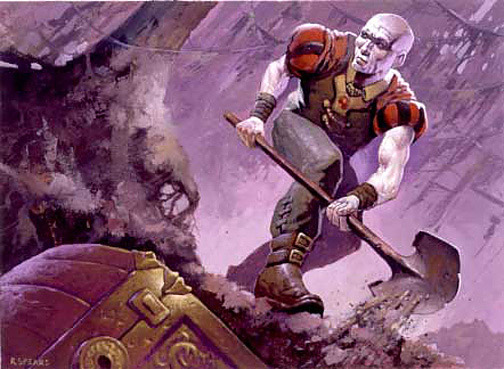 Dark Confidant is one of your most popular cards. Can you share with us how did it come to be?
It's an honor to be asked to illustrate any card, but there's always something special about doing a card like this. The main character is, of course, the player who designed the card, and the other guy is an iconic character designed by the concept artists at Wizards.
I was given the card and character description and some poor photos of the player. I wanted to do him justice but had to work with what I had, plus meet deadlines. It was done with oils on board – a detailed drawing was done for this since it was important to get the image right.
As I do most of the time, I used a friend to model for the figure and worked out the details, likeness, etc. Fun project!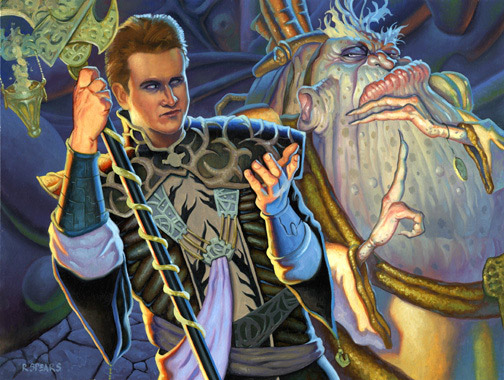 Your basic land art is delightful. It's quite different from what we've come to expect from basic lands. What can you tell us about it?
The Island/Swamp cards were created as one, continuos painting, with the elements of both fusings into each other. They were then split into 2 cards. It was oil on board. I love landscapes so this was a fun challenge.

The Sunflower card was done for a limited run of special land cards, based on Japan. Simple composition, but very satisfying. Done quickly, acrylic on illustration board.
What were some of the most challenging cards you painted, and why?
Every card has its challenges, but the one that comes to mind first is the – Phage, Akroma Painting. This was one painting that would be a book cover, packaging, 2 cards, and other productive uses. It had to be a more refined piece. The styling for Phage and Akroma was done by the legendary RK Post, so I had to take his character designs and interpret them in new poses and interactions.
In addition, I had to make a composition that would work for so many different applications as a dual engagement scene and single character cards. I had to do a very tight drawing to be sure the art director got what he needed. Originally the painting was done in acrylic on board. After the painting was received, there were changes requested based on new directions, but the deadline was too tight to send back the original.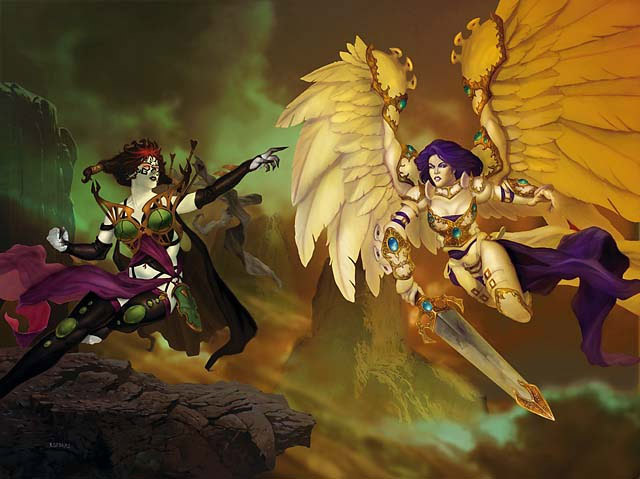 They sent a high res file and I made the final alterations digitally. It's all good and actually a fairly typical story that probably every artist can tell. It happens all the time, no one to fault, we all just want the best possible product. Working with great art directors, who bring out the best in their illustrators makes this process possible.
Of all the art you made for Magic, can you name some favorites?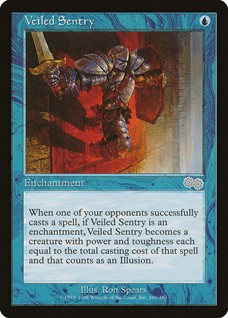 Veiled Sentry' was one of my first cards for Magic and remains one of my favorites. It needed to be done quickly, so I used acrylic on an illustration board. Cloud Scraper was fun. It was a packaged piece, as well as a card, so I had a little more time to refine and polish, it since it had to stand up to being printed larger and in more detail, than the small card image.
This was a single creature, with a lot of freedom from the art director. It was oil on board and done with a very loose sketch, preferring to let the abstract shapes in paint define the direction of the creature. As mentioned before, I like working this way, when it's appropriate.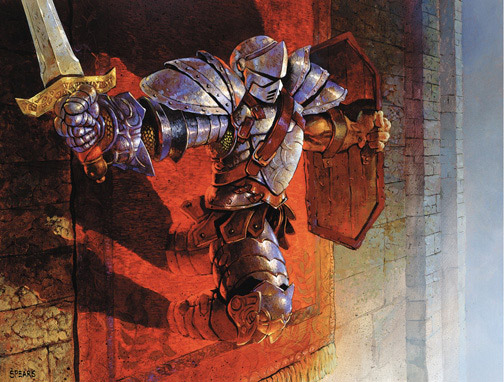 What were the defining factors behind the game's longevity?
It's a rare combination of passionate creators, all through the pipeline, including writers, artists, production, events, printing, scheduling, staff, managers, and tech support – put together with the passion of the players, collectors, and fans.
Energy from these people motivates everyone to want to continually develop a more immersive and creative experience with the highest level of quality. That's why it has sustained over the years and continues to grow – it's a great product, that continues to respect and honor its market base. More companies should take this approach.
What were the defining factors behind the game's longevity?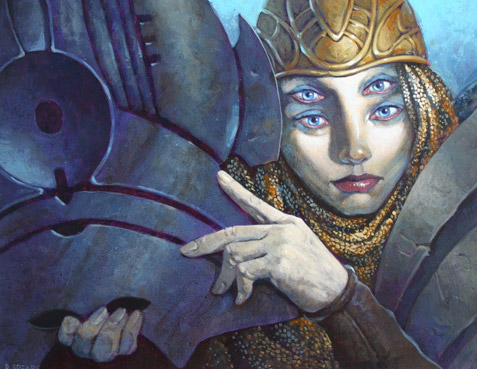 For our last question, is there any Magic-related story/episode you'd like to share with us?
For the most part; what happens in Magic stays in Magic, but I will say that the best stories for me are divided into 2 groups. It's always the people: The Artists and The Players. Having been able to work alongside some of the world's best fantasy illustrators was incredible and humbling. It's a small, passionate community that shares encourages, and supports one another.
Having met so many people at conventions, tournaments, and signings that play the game, collect the cards, and art, and share in a community of creativity and engagement, has been a very rewarding experience.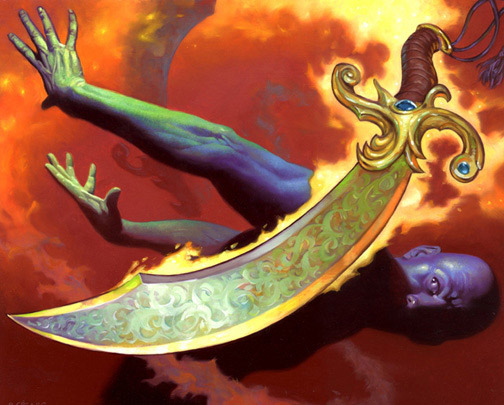 ---
We want to thank Ron for taking the time to talk to us, and for his kindness and awesomeness! You can find more about his work on Ron's website.